Emilia Clarke gives teases 'weird' end for her character Daenerys in Game Of Thrones finale..... She also reveals she REFUSES to date any actors again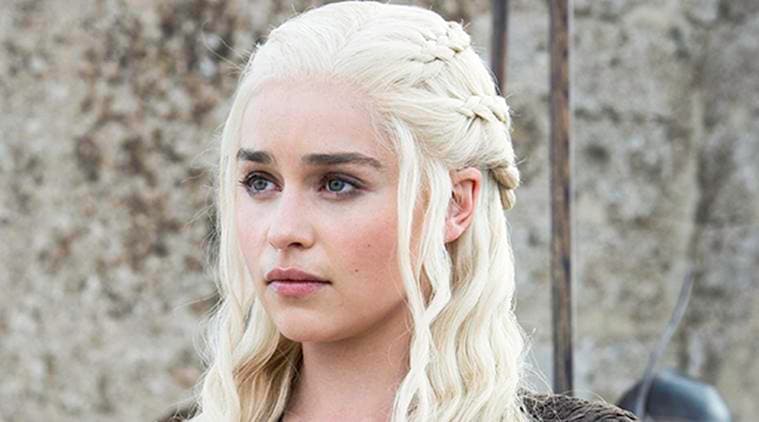 Her run as Daenerys Targaryen is set to come to an end next year, when the highly-anticipated final season of Game Of Thrones finally hits screens.
And Emilia Clarke has teased that her character, famed for rising to power with her small team of dragons, is set to see her story come to a 'weird' conclusion, a factor which deeply affected her when she recently shot the final scenes.
In an interview with Vanity Fair, the 31-year-old actress also revealed that in her personal life, she's decided that, after dating Family Guy creator Seth MacFarlane and a reported relationship with actor Jai Courtney, she's done with dating actors.
On Game Of Thrones, which sees Daenerys vying for the Iron Throne, she said of her character's final moments: 'It f***ed me up. Knowing that is going to be a lasting flavour in someone's mouth of what Daenerys is... I'm doing all this weird shit. You'll know what I mean when you see it.'
Part of what she likely found 'weird' was shooting love scenes with her character's nephew Jon Snow, who happens to be played by her pal Kit Harington, whose fiancée and former co-star, Rose Leslie, is also one of her very close friends.
Kit told the magazine of their racy scenes: 'If you've known someone for six years, and they're best friends with your girlfriend, and you're best friends with them there is something unnatural and strange about doing a love scene. We'll end up kissing and then we're just pissing ourselves with laughter because it's so ridiculous.'
In real life, however, London-born Emilia has opted to keep her love life a lot more simple in future, after some previous romantic experiences left her swearing off actors - and vowing to keep her relationships out of the public glare.
'The guys that I've met in my life that are dicks,' she said. 'I voluntarily walk the fuck away from them. That's just bad taste. People shouldn't know about those choices.'
Actress Emilia is currently busy promoting her upcoming movie Solo: A Star Wars Story, in which she portrays Qi'ra, a character she recently described in an interview on Good Morning America as the hit franchise's first 'femme fatale'.